Analysis of January-June 2022 macroeconomic indicators of Navoi region
11.10.2022
12374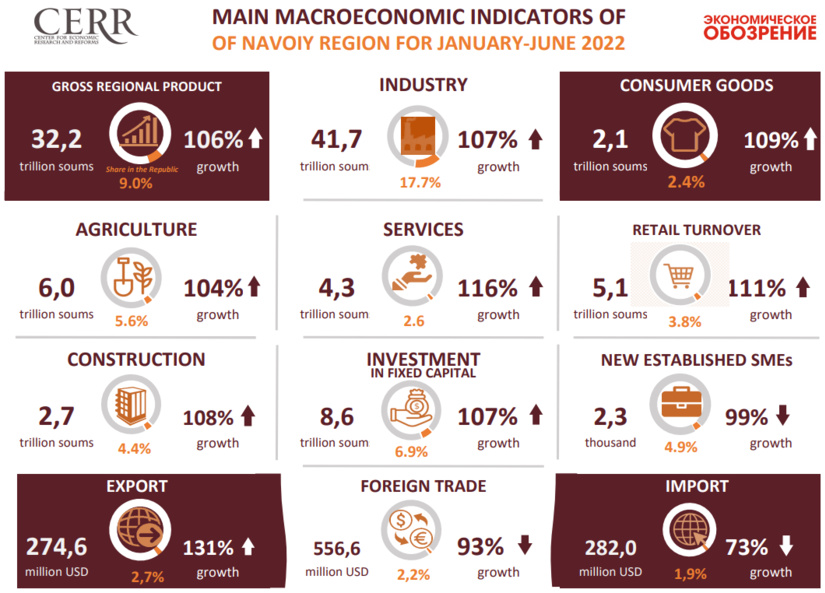 The researchers of the Samarkand branch of the Center for Economic Research and Reforms analyzed the dynamics of changes in the main macroeconomic indicators of the Navoi region in the I quarter of 2022, based on the data of the report of the State Statistics Committee.
Shu davrda Navoiy viloyati YaHM 32149,8 mlrd.so'mni tashkil etdi . Bu o'tgan yilning mos davriga nisbatan 106,4 foizga o'sib, YaHM tarkibida viloyatning ulushi 8,3 foizni tashkil etdi. Aholi jon boshiga YaHM hajmi o'tgan mos davrga nisbatan 104,2 foizga oshib, 30 million 943 ming so'mni tashkil etdi .
Viloyat iqtisodiyotining barcha tarmoqlarida yaratilgan yalpi qo'shilgan qiymat hajmi YaHMning 97,8 foizini , mahsulotga to'langan sof soliqlar esa 2,2 foizni tashkil etdi. Tarmoqlar bo'yicha YaHM tarkibida sanoatning ulushi 76,0% ( 2021 -yilda 75,4% ), qishloq xo'jaligining ulushi 11,0% ( 2021 -yilda 12,3% ) va xizmatlar ulushi 13% ( 2020 -yilda 12,3% ) . tashkil etilgan. Respublika makroiqtisodiy ko'rsatkichlarini shakllantirishda viloyatning hissasi katta, deb hisoblanadi. Mintaqaning ulushiYalpi ichki mahsulot 8,3 foizni tashkil etib , hududlar o'rtasida 4- o'rin, respublika sanoat mahsulotlari ishlab chiqarishdagi ulushi 16,6 foiz va 10- o'rin, asosiy kapitalga investitsiyalar 7,0 foiz va 7- o'rinda turadi. Aholi jon boshiga asosiy iqtisodiy ko'rsatkichlarni hisoblashda viloyat respublika bo'yicha o'rtacha ko'rsatkichlardan yuqori. Xususan, aholi jon boshiga YaHM , xizmat ko'rsatish va qishloq xo'jaligi sohalari bo'yicha hududlar orasida 4- o'rinni egallaydi.
Khankulov Shuhratjon
CERR Samarqand filiali tadqiqotchilari